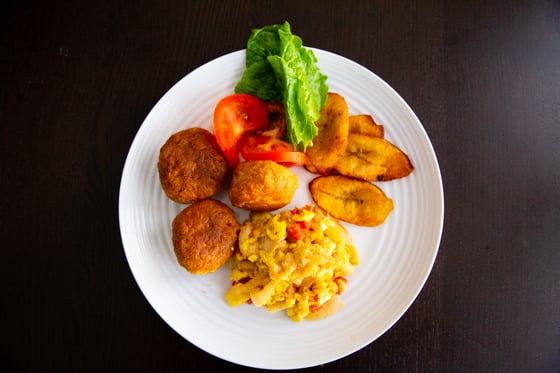 For us at CarePros, Heritage Days is more than just a summer long weekend. No matter where you look in CarePros — whether it is in our offices or our children and youth facilities — you'll find a diverse team from all different cultures, religions, ethnicities, and nationalities. It's a reminder that no matter our backgrounds, we are one team all working towards the same goal to provide best-in-class care services.
This year our CarePros had the chance to battle it out in the kitchen in our first ever Heritage Day Cook Off! The battle was fierce as they took their cultural inspiration for food into the kitchen, but only one can reign supreme. Congratulations to our CarePros Kenesha Golding and Anthonia Eneasato for winning our inaugural Heritage Day Cook Off!
---
Fried Plantain
Ingredients
1 ripe plantain
1/3 cup cooking oil


Directions
Peel & slice plantain in desire size.
Fry in oil over medium heat until golden brown about 1-2 minutes on each side until completely cooked.
Remove from frying pan anddrain any excess oil


---
Ackee & Saltfish
Ingredients:
1 can of ackee
1 tomato
1/2 white onion
1/2 Sweet pepper (green or red)
1/3 - 1/2 cup cooking oil
Saltfish (de-bone)
Pinch of black pepper
Directions:
Boil salt fish for about 5-10 mins, pour off water then leave in cold water until ready to use. Drain and break fish in small piece.
Slice & dice seasonings,( tomato,onion, sweet pepper) saute in oil, add fish, stir well.
Drain water from ackee, add to fish mix & stir well. Add black pepper to taste.
Cook for about 5-6mins until completely hot.
Serve as desired.
*Method will be different when using raw ackee. Can ackee is cooked & ready to use.
---
Jamaican Fried Dumplings
Ingredients:
1 cup of all purpose flour
Cornmeal (optional)
1/4 tsp salt
1 tbsp butter or margarine
1 & 1/2 tsp baking powder
1/3 cup water (approximately)
Cooking oil
Directions:
Add all dry ingredients, combine butter and rub in.
Add water gradually molding into a dough until all ingredients are completely mixed in. Not too dry, soft but not too soft.
Let sit for about 2-5mins.
Take a small piece of dough & roll in a ball like shape
Add to hot oil and fry on low to medium heat for about 3-5mins on each size until fully cooked.
---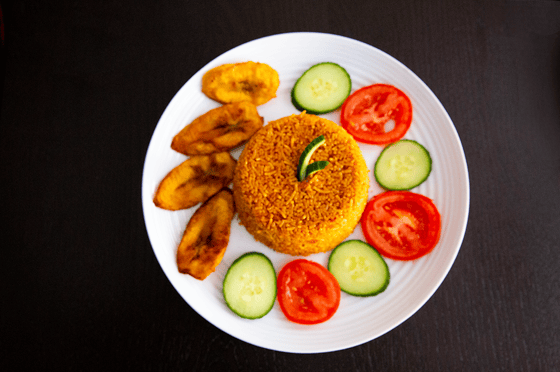 Nigerian Jollof Rice
Ingredients:
1 cup raw rice
1/3 cup cooking oil
1 can tomato paste
1 white onion
Pinch of salt
2-3 gloves of garlic
1 tbsp paprika
1 boullian cube
1/4 tsp thyme
water
Directions:
Saute slice onions, diced garlic, and tomato paste in oiled pot
Add seasonings to saute onion mix
Add salt to taste
Stir and cook for 5 minutes
Add 1/2 cup water
Wash rice and drain excess water
Add rice to sauce and mix
Cover pot with tin foil and lid
Leave on low heat
Add 1/2 cup water every 3 minutes. Cover rice with tin foil and water.
Repeat unti rice is soft