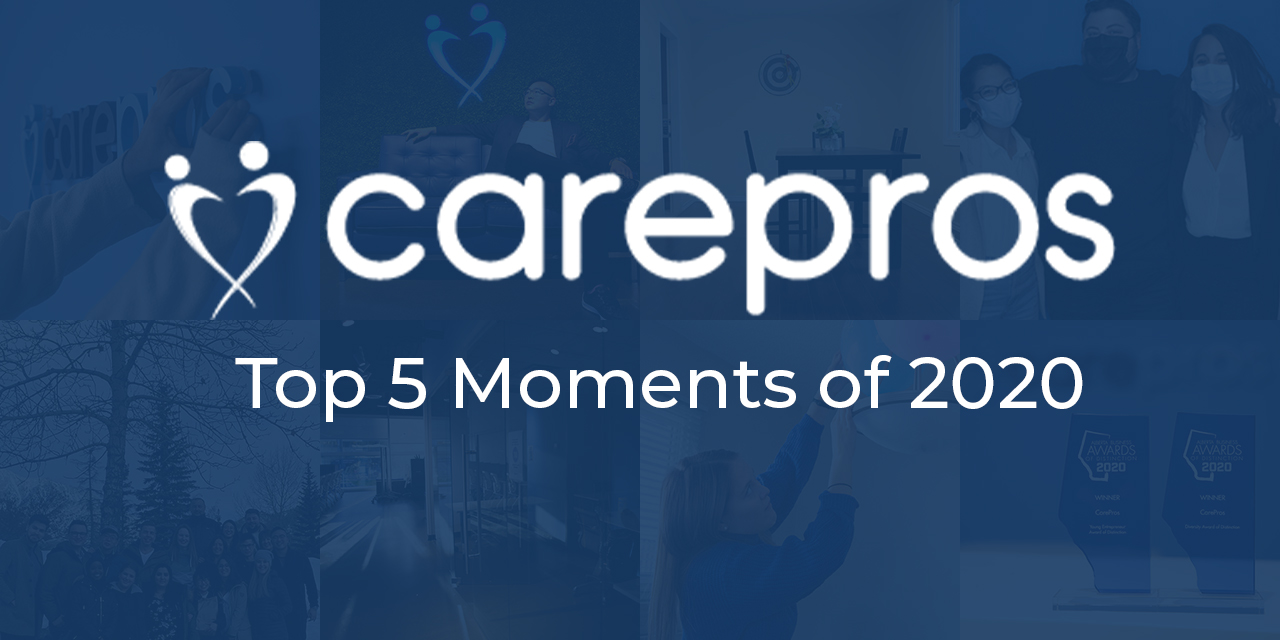 To put it lightly, 2020 brought on many challenges for all of us. At CarePros, we've been very fortunate to continue operations and deliver quality respite services to the families we care for. As we reflect upon everything that was 2020, our CarePros teams came together to continue to provide best-in-class care services.
While we look forward to a new year filled with endless possibilities, we will always remember the challenges and triumphs we had over 2020.

#5 Caring Means Giving
At the beginning of the year, a familiar face can be seen carrying armloads of birthday cake, presents, cards, and balloons right at the doorstep of our clients. It's a face that our clients look forward to seeing and it's CarePros very own Community Engagement Coordinator Richard Lee.
"I just love to see the smile on the children's faces," smiles Richard. As our Community Engagement Coordinator, Richard builds relationships with our clients and Care Professionals, and other charities and organizations we support.
For us at CarePros, our clients are very much part of our CarePros family. With nearly 100 birthday gifts delivered this year, as well as countless other donated gifts this holiday season, CarePros looks forward to seeing more smiling faces for years to come.

#4 Our New Home
While we spent the majority of 2020 working from our own homes, we at CarePros finally moved into our new office in late September. Located on Calgary Trail, our office is an open work environment for our team members to interact and collaborate.
More than just a workspace, we at the CarePros team created an office culture that is a safe space for everyone. This includes everything from gender-neutral washrooms to our multi-faith meditation room. For us, our office is our second home where everyone is welcome.
"This year we've become stronger, more compassionate, and acted as one team," said Clara Bouhamou Strategy, Service Excellence, People & Culture.
Having a new office space also means nothing without being able to fill it with dedicated team members. During the pandemic, we were fortunate enough to grow our team by 50%.

# 3 Providing Quality Group Homes
Providing quality care means making our clients be part of a home. At the beginning of April, CarePros launched a series of group homes in the Mill Woods community, and our latest group home in Leduc launched in November. As a Family Support for Children with Disabilities (FSCD) vendor, we currently have 4 group homes and more than 30 beds available.
With 33 of our Care Professionals providing 24/7 respite services in our 4 group homes, our unique model is just a hint of things to come in 2021.
"Our CarePros Service Delivery team has worked closely with our community stakeholders to develop a program that focuses on promoting the amazing strengths that each child and youth inherently possesses," said Service Delivery Manager Evan Kay.


#2 Ranking 13 on START UP 50 and Winning ABAD Young Entrepreneur and Diversity
It has been a long road to the end of 2020. Our team has made tremendous sacrifices to better the lives of our clients, and without our team we could not have navigated 2020 as well as we did. So we are beyond honoured to have our team recognized for their hard work providing world-class respite service.
CarePros made its debut on Canadian Business STARTUP 50 List 2020, ranking #13. We have grown an outstanding 3041% in the past two years, growing to over 170 employees even during the COVID-19 pandemic.
"We are incredibly honoured to be selected as one of the 50 fastest-growing companies across Canada. This award gives us great encouragement during a time of trial and tribulation to keep growing our supports across Canada to serve the most vulnerable children and youth in our society," said CarePros Founder & President Charles Wong.
We are also honoured to be recipients of both the 2020 Young Entrepreneur and Diversity Award of Distinction for the Alberta Business Awards of Distinction (ABAD).

#1 Becoming CARF Certified
It was over a year in the making with more than 2,500 hours dedicated to the process, but it was well worth the wait.
In November we received a 3-year Commission on Accreditation of Rehabilitation Services (CARF) Accreditation for our group homes, respite care, and case management services. CARF International is an independent accreditation, non-profit organization that was founded in 1966. The organization provides a framework, then consults and advises health and human service organizations around the world.
Having our services and programs CARF certified is more than just having a certificate hanging on our office walls, but a recognition of our years of dedications to providing word class health and human services. Joining their ranks is an honour and a responsibility for both our team at CarePros and our clients.
"We want to provide the best care possible", said CarePros Founder & President Charles Wong, "We recognized that the bar for how we provide care needed a baseline and that's what led us to seek CARF accreditation."