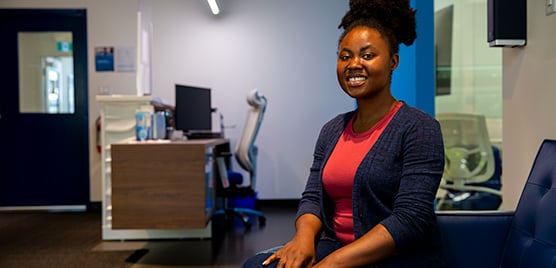 Meet Linda, CarePros first Overnight Field Supervisor. While she and her role may be new to our team, Linda has already made a huge impression in both our child and youth facilities and our CarePros head office. We recently had the chance to sit down with Linda to hear in her own words her journey to becoming our Overnight Field Supervisor, and what makes her successful in her role.
So first things first, tell me about yourself
I've been working in the social work field for about 6 years, I started off as a youth coordinator in an after-school program and from there I ended up working in family intervention. I worked as a family coach, community worker, family preservation worker, and a foster care worker. From there I worked at another agency as a development manager. I was doing youth work and now I am an Overnight Supervisor. It's all in the purpose of growing and seeing where I fit in my careers and aspirations. So far things are going really well.
That's a lot in 6 years!
I like to try a lot of things! (laughs)
So what is it that you value being CarePros Overnight Field Supervisor?
My whole values on working with people who are in need of support is to ensure that we are meeting where they are and not putting pressure on them and ensuring we are demonstrating genuinely there for them. It's also about acknowledging culture, respect, and boundaries.
What inspired you to get into this line of work?
When I was in college, I wanted to pursue counselling but along the way I looked into the social work field because I can do more hands-on work, be more personable, and seeing other ways I can actually help people. I think that's been my drive.
What is it that you enjoying caring for your clients?
I always tell this to my clients: I think the difference between you and myself is opportunity. You either you take it or you don't.
That is so true. So what attracted you to come to CarePros?
A lot of the things I look for is if an agency aligns up with my core values. I've seen CarePros core values and I got to meet the amazing People and Culture. They were very much welcoming and engaged. They gave me a sense of home if I came here. That really helped me sign on the dotted line.
You mentioned values a few times. Why are core values so important to you?
The core values are there to support the people who need that support. It's making sure we're listening and we're putting their rights first, respecting their boundaries, culture, and beliefs. We need to demonstrate our professionalism.
What's it like being an Overnight Field Supervisor?
The overnight supervisory role is to support the overnight staff. My role is to bridge the communication as well as making team members feel valued and informed of new policies and procedures, and anything coming up from CarePros. And to also have someone they can speak to directly during crisis situations.
What systems are you most excited for?
As CarePros is moving forward and growing, there are going to be a lot of changes and implementation in our system. For example, the safety programs of the houses. We have a system where teams are calling in to check on their designated home. It will help create a system where teams members can keep themselves accountable. I think this will create a better environment overall for the client and our team members.
What is the key to your success?
I think if we are able to have consistent safety for the client, ensuring their environment is in a presentable state where they feel regulated and can regulate themselves. It also has to be safe for our CarePros so they don't feel like they are walking into an environment that is potentially causing them harm or make them feel a lack of support.
That's how success looks like to me: we have healthy caregiver, and healthy and safe clienteles.
What lessons from your career would you like to share with our CarePros?
Everything is a learning process. We aren't always going to figure it out or we're not going to have the best answer. Take for example if one of our youth comes to us and we don't know how to best respond; we always have an opportunity again the next day or whenever we can. A lot of times as CarePros we can beat ourselves up when we miss an opportunity instead of taking it as a learning opportunity.