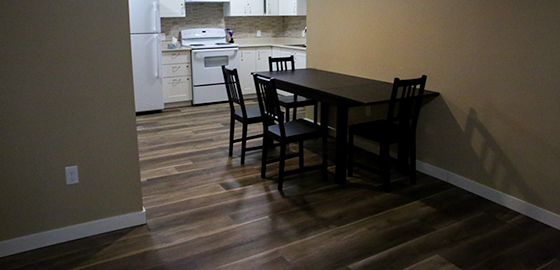 We are proud to announce the opening of our first ever CarePros Training Centre. The CarePros Training Centre is designed to further enhance the professional development of our Care Professionals. The CarePros Training Centre duplicates the layout of all CarePros child and youth facilities, ensuring team members are well-trained in operating and providing quality care inside any CarePros child and youth care facility.
"This is a big step for us in terms of delivering more training for our team members," said CarePros Marketing, Technology, and Asset manager Alex Gervais. "In order for us to provide excellent care services to our clients, we too need to ensure we are stepping up our game and being better trained."
The CarePros Training Centre will be used to provide new team members a deeper training experience during the onboarding orientation process. The location will also be used to provide additional training sessions to our seasoned Care Professionals. There will also be opportunities for training videos to be filmed at the training centre.
"Our team has done a fantastic job this year and we want to continue supporting and developing their professional growth," said Alex.
New Child and Youth Care Facilities
The CarePros Training Centre is not the only new facility our team can look forward to. New to our line of Young Person's Stronghold child and youth facility are two new locations in Mill Woods and West Edmonton. This marks the fifth and sixth child and youth facility launched by CarePros since May of last year. These facilities will have teams of CarePros for each location, providing round-the-clock care for our clients.
Each child and youth care facility is designed and modified for our client's needs and comfort in mind. Facilities include communal areas like a kitchen and living room, as well as private living quarters. Each location has a full-time support team and smart technology to ensure the safety of our clients and team members.
Team members will also be receiving additional training guides and resources which will be made available in the coming months.
"Our number one goal at CarePros is to ensure kids get the care they deserve," said Alex, "we want to ensure we are creating team members and facilities that best cater to our clients' needs."