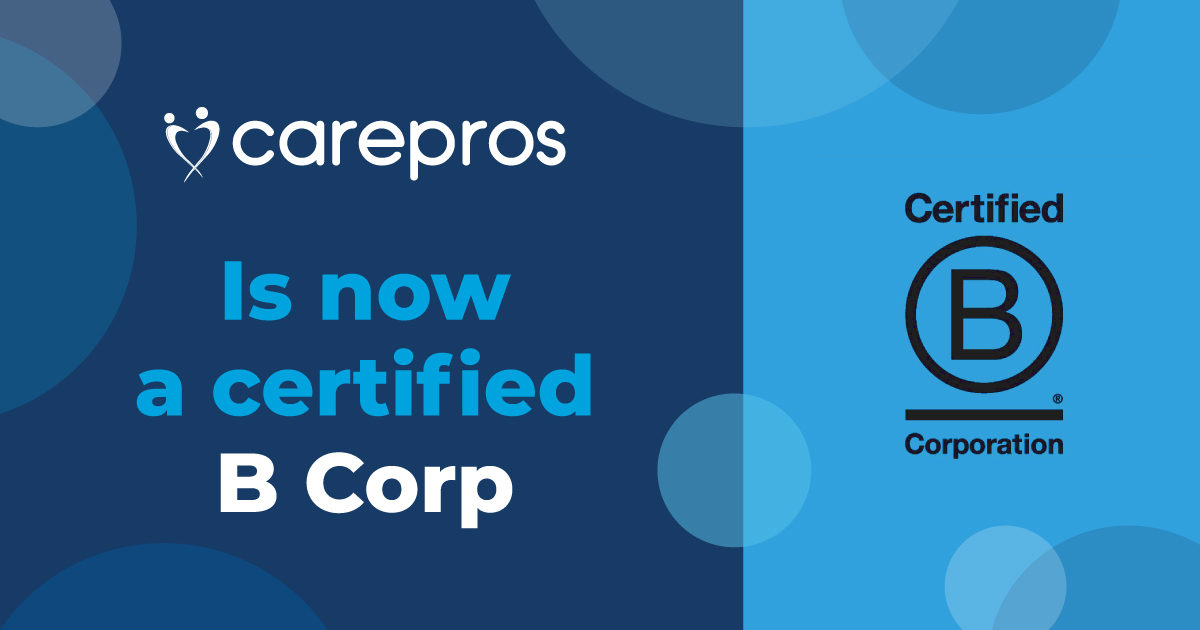 CarePros is proud to announce its certification as a B Corporation! B Corps are for-profit companies that use the power of business to build a more inclusive and sustainable economy. As a B Corp company, CarePros is held to the highest standards of social and environmental performance, transparency, and accountability.
"Being a B Corp company aligns with our values and mission to make a positive impact in the world," said CarePros Founder & President, Charles Wong. "We're proud to join this community of purpose-driven businesses using their power to create a force for good."
The B Corp certification process by the nonprofit B Lab assesses a company's social and environmental performance. Companies that want to become B Corps must pass a thorough evaluation of the impact of their operations and business model on their employees, customers, communities, and environment, as well as meet the minimum requirements on the B Impact Assessment. In addition to meeting these rigorous standards, CarePros upholds the principles of Justice, Equity, Diversity & Inclusion for all people.
CarePros is a leading Children's Services Agency that provides Trauma-Informed Personalized Community Care and Agency Foster Care placements to children and youth with complex medical and behavioural diagnoses. The company stands out by placing a unique emphasis on cultural connection, family reunification, and the transition of complex youth with disabilities into adulthood.
CarePros is committed to providing high-quality care to children and youth in need and supporting families and foster caregivers. CarePros is also dedicated to being a culturally responsive organization that reflects the communities it serves, actively supporting justice for indigenous peoples through Truth & Reconciliation. As a forward-thinking business, CarePros is constantly looking for ways to make a lasting impact on the children and youth served for generations to come.
CarePros is proudly an Alberta Living Wage Employer and prides itself on a workforce comprised of 70% women, standing by its values of Diversity, Equity, and Inclusion. CarePros champions a safer workplace for everyone, where all people are empowered, particularly women and people of colour.
CarePros is working to help indigenous children and youth return home safely by responding to the following Child Welfare Calls to action outlined by the Truth and Reconciliation Commission announced by the federal government in 2005:
Addressing Truth and Reconciliation Commission Reconciliation  

Call to Action 1 – 6 "Child Welfare"
"We call upon the federal, provincial, territorial, and Aboriginal governments to commit to reducing the number of Aboriginal children in care" by:
Monitoring and assessing neglect investigations.

Providing adequate resources to enable Aboriginal communities and child-welfare organizations to keep Aboriginal families together where it is safe to do so, and to keep children in culturally appropriate environments, regardless of where they reside.
Ensuring that social workers and others who conduct child-welfare investigations are properly educated and trained about the history and impacts of residential schools.
Ensuring that social workers and others who conduct child-welfare investigations are properly educated and trained about the potential for Aboriginal communities and families to provide more appropriate solutions to family healing.
Requiring that all child-welfare decision makers consider the impact of the residential school experience on children and their caregivers."
"We call upon the federal government, in collaboration with the provinces and territories, to prepare and publish annual reports on the number of Aboriginal children (First Nations, Inuit, and Métis) who are in care, compared with non-Aboriginal children, as well as the reasons for apprehension, the total spending on preventive and care services by child-welfare agencies, and the effectiveness of various interventions."
"We call upon all levels of government to fully implement Jordan's Principle."
"We call upon the federal government to enact Aboriginal child-welfare legislation that establishes national standards for Aboriginal child apprehension and custody cases and includes principles that:
Affirm the right of Aboriginal governments to establish and maintain their own child-welfare agencies.
Require all child-welfare agencies and courts to take the residential school legacy into account in their decision making.
Establish, as an important priority, a requirement that placements of Aboriginal children into temporary and permanent care be culturally appropriate."
"We call upon the federal, provincial, territorial, and Aboriginal governments to develop culturally appropriate parenting programs for Aboriginal families."
CarePros is honoured to join a network of 4,000 B Corps in 70 countries and 150 industries worldwide. B Corps are building a global movement of people using business as a force for good.
Follow our story on social media: