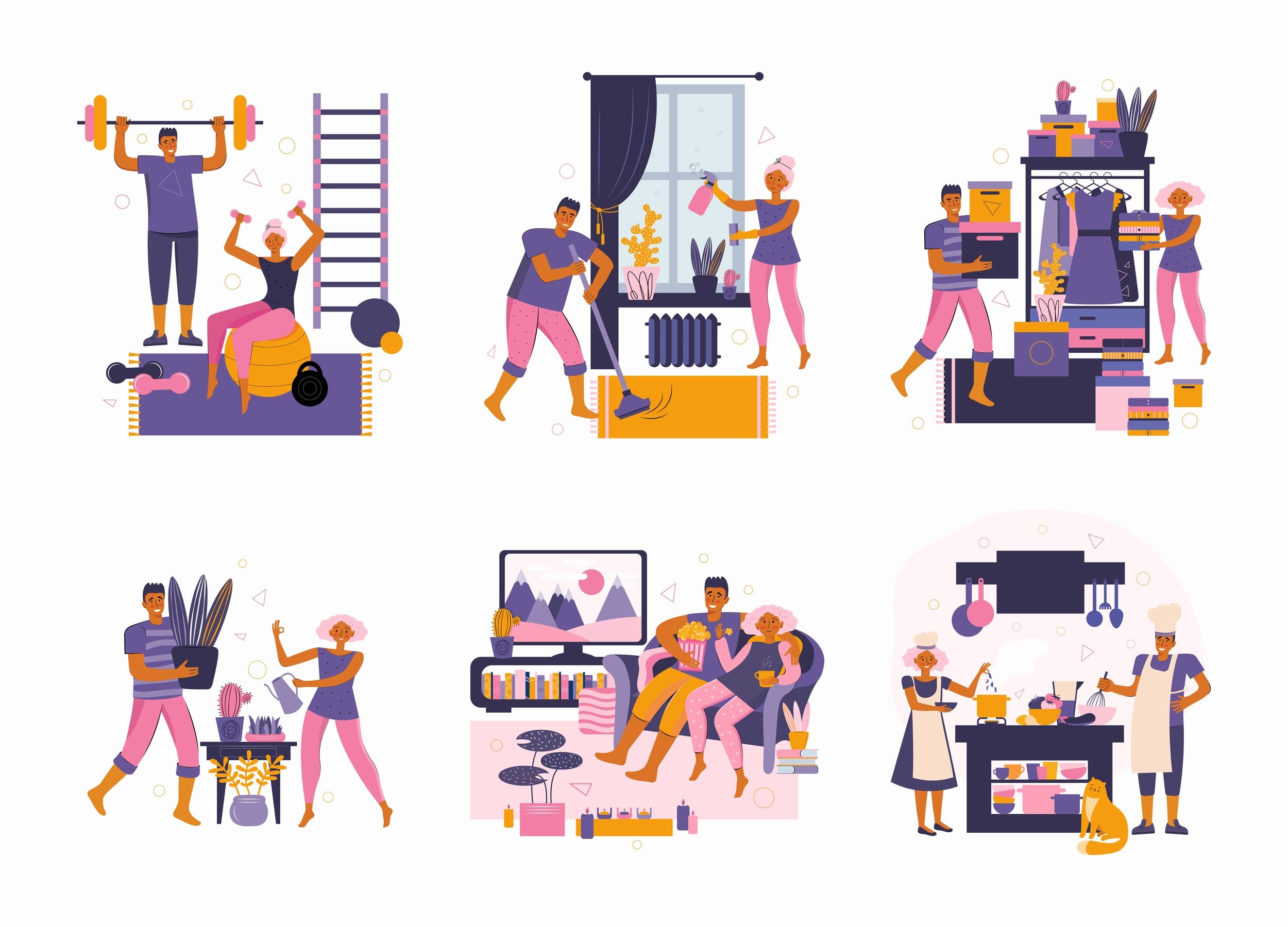 With this extended downtime being at home under quarantine, you may be starting to run out of ideas on what to do. Worry not, because we've curated a list of productive ways to spend your time!
Check in on your family members often. Make sure that everyone is both physically and mentally healthy, and assure them that you're there for them if they need to talk.


Create and enforce a routine. Being at home all the time doesn't mean that your regular schedule goes out the window! The upside is that your routine doesn't need to be strict and you can move things around as needed.


Gather all the documents needed for tax season.


Plan a trip/vacation for the future. There's plenty of time now to explore all the places in the world that you might want to visit once it's safe to do so again.


Use programs like Google Hangouts, Skype, or Zoom to have virtual hangouts. You can still see and hear your friends and family as if they were right there with you.


Make a gratitude journal. Now is a better time than any other to be grateful for what we have.


Do a scavenger hunt for your kids at home. This could lead to some interesting stories behind some items.


Stargaze from your porch or balcony. Is there really life out there?


Back up all your precious photos and files to protect them forever. There's no such thing as being too safe.


Update your resume and cover letter. This will make job searching infinitely easier next time you're looking for a change.


Clean up your email inbox. Emptying it lets you be more prepared for anything that may come your way.


Start tackling your backlogs. Everyone has a list of books to read, movies and shows to watch, or songs to listen to, so now's a better time than any other to put a dent in that list.


Take an online class! Yoga, dance, workout, and guitar classes are all available. Just because we can't go out doesn't mean we can't still do things.


Play online games with friends. Whether you're a hardcore or casual gamer, there's something for everyone.


Learn random things online. The internet is a limitless expanse of knowledge. Watch a TED talk, a documentary, listen to a podcast, or read a Wikipedia article. A lot of universities and colleges are offering online courses for free as well. Knowledge is power!


Start getting into meditating. There's plenty of resources out there to help you find your inner peace. Apps like Calm and Headspace are great for beginners.


Create (or reevaluate) your home emergency plan. Make sure you have a fire extinguisher, first aid kit, water, and emergency rations. Also make sure that you have a plan for all your important documents and your most valuable possessions.


Learn a new language. Duolingo can help you with this.


Do a virtual tour. Plenty of museums, zoos, and aquariums are offering virtual tours. You can save money on traveling there and still get to experience it for yourself.


Do some arts and crafts. Get a hit of nostalgia by breaking out the scissors, glue, colorful construction paper, and pencil crayons and relive your elementary school days. Re-explore your creative side!


Go outside (safely). The weather is warming up as summer approaches, so take a walk or a bike ride and get some fresh air. Remember to keep your distance from others!


Be present. This is new to all of us, and being mindful and calm is a good way to handle this situation.
Regardless of how you choose to spend your time, just remember that at the end of the day, we're all in this together, and you shouldn't spend all your time worrying and overthinking.